OLD ANTIBES
860 sqf (80 m2), 2 Bedrooms, 2 Bathrooms, Full Sea View Balcony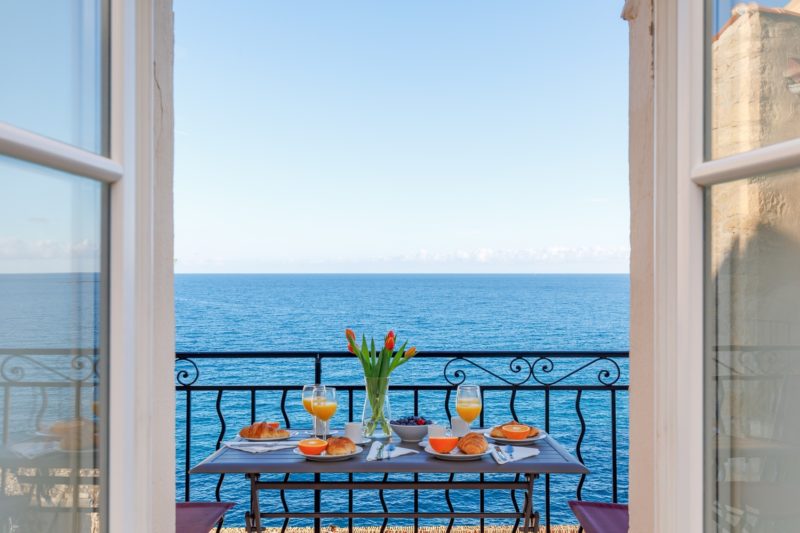 Maison Vistamar is an authentic village house of 860 square feet (80 square meters) which offers 2 master bedrooms.
It has its own private street entrance, secured by an armed door.

This 2 floor house is full of charm of the Vieil Antibes.
- 2 en-suite bedrooms with private bathrooms suitable for couples or families with children
- a large and modern kitchen/dining room
- a large balcony with a direct view of the Cap d'Antibes.

The house was completely renovated in 2022.
Charm guaranteed!
Ready to stay in the Maison VistaMar?
Book now
Located rue du Bateau, in the heart of the historic triangle Cathedrale Notre-Dame-de-la-Platea, Picasso Museum, Provençal Market.
LOCATION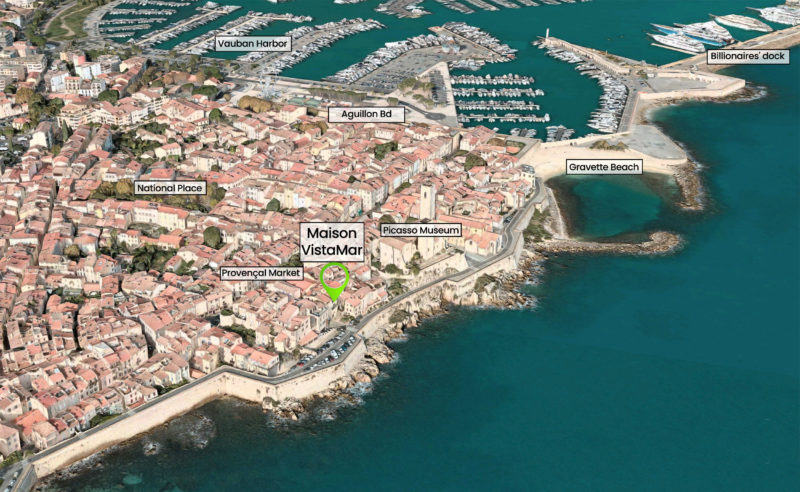 This house is located in a typical 17th century Antibes building.
The private entrance to the house is via rue du Bateau: you will fall under its spell as soon as you lay eyes on it!
The house has a secure front door.

The Maison VistaMar offered for rent is ideally placed to visit the must-see monuments and museums of Antibes, but also to indulge in shopping.
Old Antibes is a chic and trendy district, known for its elegant streets, cafes and restaurants, fashion and design boutiques, antique shops, art galleries, etc.
Notre-Dame-de-la-Platea Cathedral, the Picasso Museum and the Provençal market are just around the corner.
Walk to the beaches of Gravette and Salis in less than 5 minutes.
Maison VISTAMAR - AirBnb - Jan, 2023
We stayed at Maison VISTAMAR for the Newyear holiday week, and it was absolutely perfect for our family!

Our daughter, son-in-law, and grandkids live in Antibes, and the house allowed us all to have a place to gather without crowding them, as well.
The house is perfect, we definitely were able to unwind and relax during our stay. The house was spotless when we arrived.

Maggy was great, and super responsive to our needs before and during our stay. Thanx so much! We can't wait to do it again next year!
Guillaume NewYork, USA
Maison VISTAMAR - AirBnb - Dec, 2022
This was our second stay at one of Maggy & Henri's homes. We were the first tenants.
We absolutely loved it! The view of the sea and the Cap d'Antibes is incredible.
The kids loved watching the fishermen from the balcony during breakfast.
Every detail of decoration is really thought out. The beds are worthy of a 5-star hotel and the top-of-the-range kitchen is perfect for family dinners. The living room and its leather aviator sofas are magnificent.

The house is located one minute from the market and restaurants. The beach is only a three minute walk away. And the calm is total to sleep at night. A great family Christmas in the VistaMar apartment. We really appreciated being able to chat with Henri during an aperitif at his house, located just next door.

We can't wait to come back again!
Margaret London, UK
Ready to stay in the Maison VistaMar?
Book now