OLD ANTIBES
1600 sqf (150 m2), 3 Bedrooms, 3 Bathrooms, Full Sea View Terrace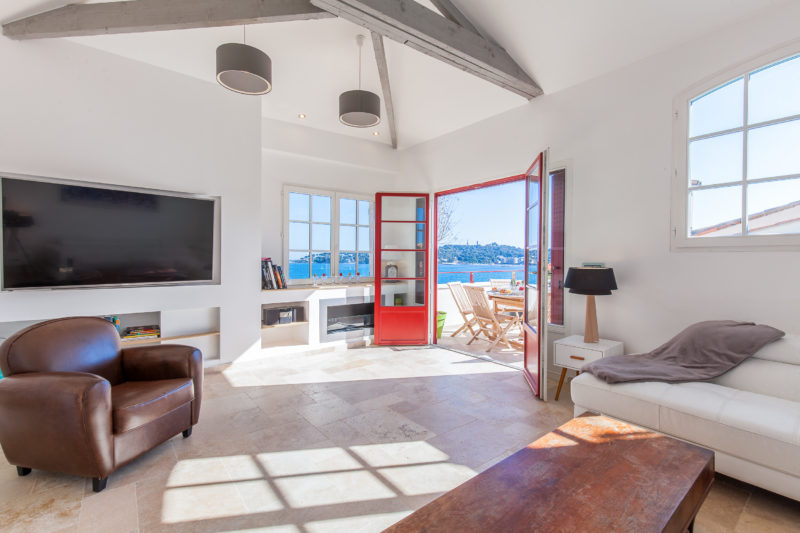 Maison Baïeta is an authentic 1600 square feets (150 square meters) 3 bedrooms house, in the 1st French floor of 17th century walk up building and it sleeps 6 people.

The house was completely renovated in 2018.

This 3 floor house is full of charm of the Vieil Antibes.
- 3 private en-suite bathrooms suits couples or families with children
- one large and modern kitchen/dining room
- one large living room with a beautiful view
- a large terrace with a direct view on the Cap d'Antibes.
Ready to stay in the Maison Baieta?
Book now
Located rue de la Tourraque, in the heart of the historic triangle Cathedrale Notre-Dame-de-la-Platea, Picasso Museum, Provençal Market.
LOCATION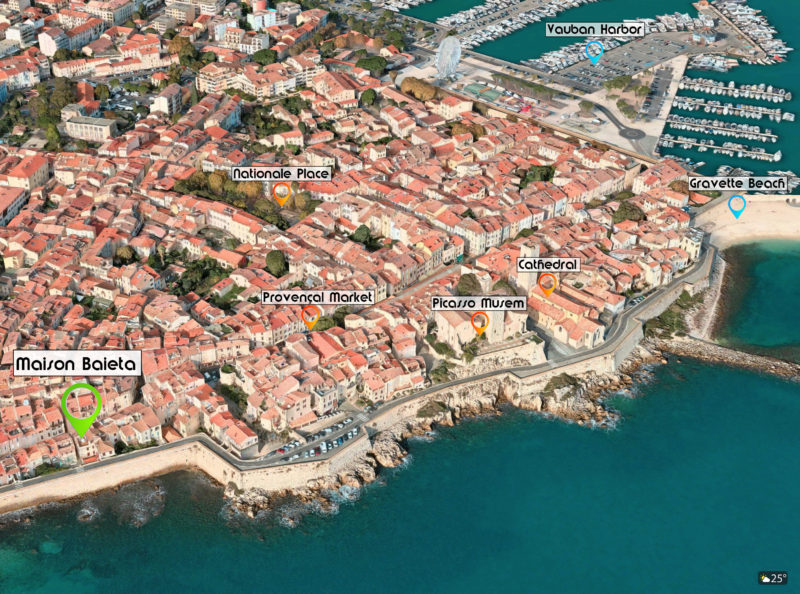 This apartment is located in a typical, seventeenth century Antibes building.
The entrance to the building is from rue de la Tourraque: you'll fall under its spell the moment you set your eyes on it!
The facade was renovated in 2017. There is no lift.
The building is secured by an electronic lock. The apartment has an armoured entrance door.

The apartment available for rent is ideally placed to visit the must see monuments and museums of Antibes, but also to indulge in shopping.
Old Antibes is a chic and trendy district, known for its elegant streets, cafes and restaurants, fashion and design shops, antique shops, art galleries, etc.
The Notre-Dame-de-la-Platea Cathedral, the Picasso Museum and the Provençal Market are just around the corner.
Walk to the Gravette and Salis beaches in under 5 minutes.
Maison BAIETA - Vrbo - Dec, 2022
In the middle of Old Town Antibes - walking to everything, morning market, croissants, harbor, fantastic restaurants.

Huge view on the Mediterranean.

Checking in and out with Paula seamless.

Henri the owner has created a magical place and we would Absolutely stay again.
Greg USA
Maison BAITEA - Vrbo - Jul, 2022
A superb apartment, ideally and superbly located. Maison Baieta is a true gem.

We enjoyed our stay and we will rent it again in a heart beat if we are in the area again.

We truly appreciated many of the details that made a difference including the beach towels in each room and above all, the parking card!

The apartment is in the pedestrian heart of Old Antibes and having a parking access made it really stress free.
Our concierge is both warm and very effective. We are a very picky french family and i could not recommend Maison Baita enough.

It is a very comfortable vacation home for 6 people.

And the location cannot be beaten. Special mention to the terrasse with its incredible sea view.
Micheline
Maison BAIETA - AirBnb - Sep, 2022
Antibes a beautiful, not too many tourist for being in the French Riviera!

Our location perfect as it was easily accessible from the house-the home is beautiful, with wonderful views - nicely appointed, and a concierge readily available.
Marilyn Sausalito, California
Maison BAIETA - AirBnb - Aug, 2022
Well..what a find.

We have been to Antibes many many times, mostly staying on a friends boat, but this year we stayed on land to attend lots of activities including an amazing wedding at Bastide du Roy.

The property was fantastic and very well appointed. It was the perfect spot for getting around Antibes and to the marina.

The rooms were fabulous, everyone of them, and the view was to die for..it was just perfect.

Would thoroughly recommend to those that want a luxurious stay. We will be back for sure. Thank you Henri and Maggy.
Tracey Tutts Clump, UK
Maison BAIETA - AirBnb - Apr, 2022
The home was well appointed and the views were amazing.

Our greeter was wonderful to work with and super helpful.

Should we return to this part of the world,

We'll definitely stay at this property again! Highly recommend it!
William
Ready to stay in the Maison Baieta?
Book now