You have just found the perfect place for your stay!
1500 sqf (140 m2), 3 Bedrooms, 4 Bathrooms, Sea View Terrace, Gameroom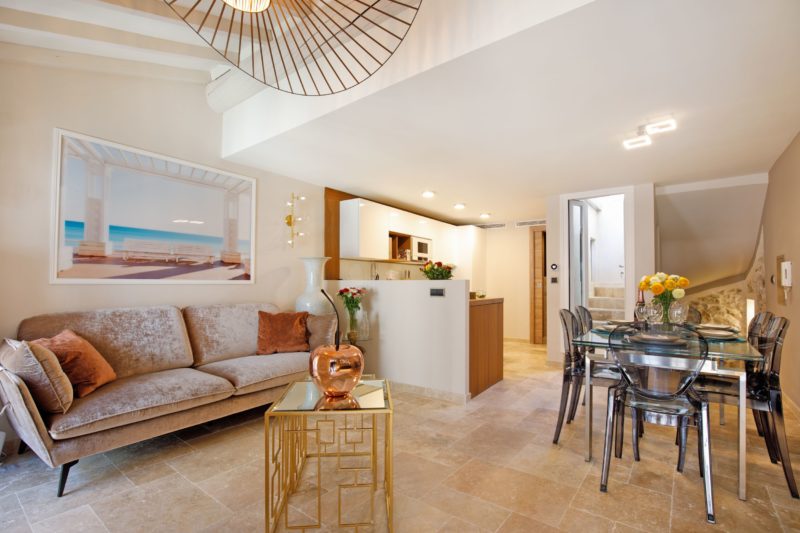 Maison Pantai is an authentic 1500 square feets (140 square meters) 3 bedrooms house and it sleeps 6 people.

The house was completely renovated in 2021.

This 3 floor house is full of charm of the Vieil Antibes.
- 3 private en-suite bathrooms suits couples or families with children
- one large and modern kitchen/dining room
- one large living room,
- a large terrace with a direct view to the Cap d'Antibes.
- a gameroom for children or adults.
Ready to stay in the Maison Pantai?
Book now
Located rue de la Tourraque, in the heart of the historic triangle Cathedral Notre-Dame-de-la-Platea, Picasso Museum, Provençal Market.
LOCATION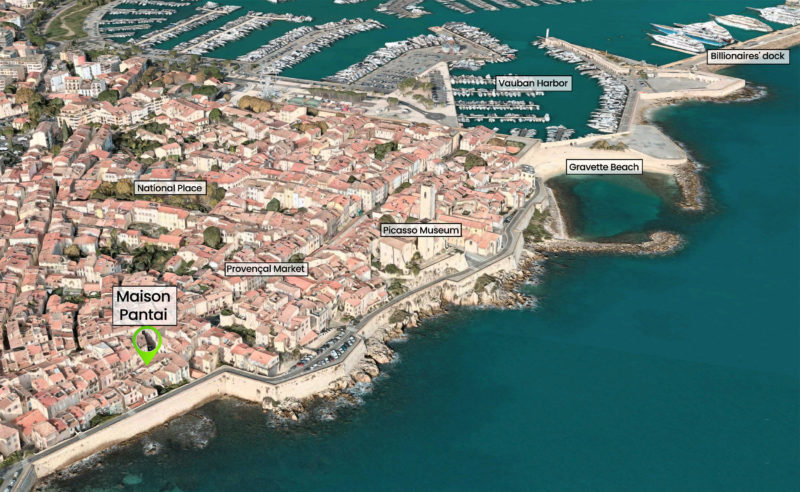 This house is a typical, seventeenth century Antibes building.
The entrance to the building is from rue de la Tourraque : you'll fall under its spell the moment you set your eyes on it!
The facade was renovated in 2021. There is no lift.
The house has an armoured entrance door.

The house available for rent is ideally placed to visit the must see monuments and museums of Antibes, but also to indulge in shopping.
Old Antibes is a chic and trendy district, known for its elegant streets, cafes and restaurants, fashion and design shops, antique shops, art galleries, etc.
The Notre-Dame-de-la-Platea Cathedral, the Picasso Museum and the Provençal Market are just around the corner.
Walk to the Gravette and Salis beaches in under 5 minutes.
Maison PANTAI - AirBnb - Oct, 2021
Fantastic apartment, centrally located in Antibes old town and close to the beach.
Very stylish and well equipped.
We particularly loved the terrace with a grill and great sea view.
Very good and helpful correspondence with the owners.
Tore Trondheim, Norway
Maison PANTAI - AirBnb - Oct, 2021
We would like to thank Henri for our wonderful stay!
The apartment was perfect.
The terrace is perfect in any weather and bbq is always a great way to have a nice dinner at home.

The location is right next door to the famous Antibes market, so walking distance to anything you might need.
Henri was a great host, responsive and friendly.
We definitely recommend this place!
Darya Stretton-on-Fosse, UK
Maison PANTAI - AirBnb - Jun, 2021
An exceptional piece of real estate beautifully renovated !

Henri was really helpful and welcoming.
We were able to enjoy warm evenings on the terrace with an exceptional outlook on the sea and the provencal rooftops.

Antibes is definitely worth visiting !
Nicolas Nuremberg, Germany
Maison PANTAI - AirBnb - Jun, 2021
La maison est idéalement située à côté des centres d'intérêt d'Antibes: Marché Provençal, Musée Picasso et Remparts.

La terrasse en dernier étage bénéficie d'une vue superbe sur la mer et permet de faire des barbecues très agréables.

Décoration très soignée, on se sent tout de suite chez soi.
Philippe Geneve, Switzerland
Ready to stay in the Maison Pantai?
Book now