OLD ANTIBES
1100 sqf, 2 bedrooms, 2 bathrooms, full sea view terrace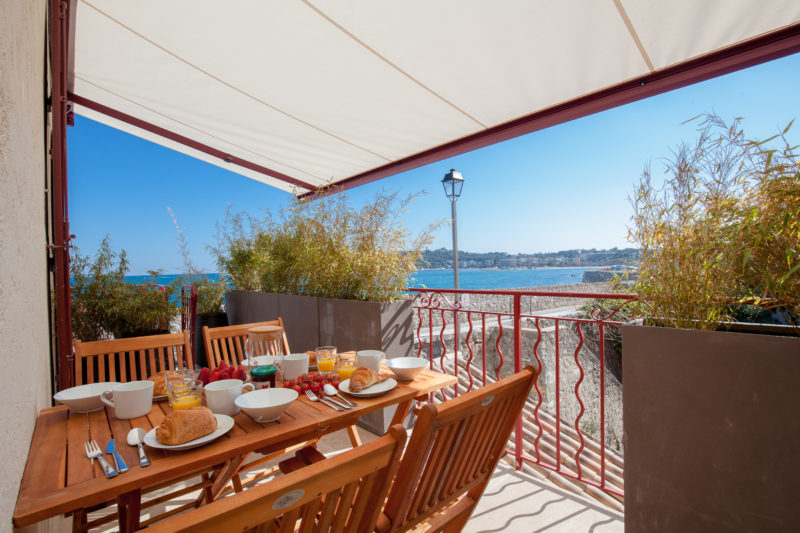 Maison Marina is an elegant 1100 sqf (100m2) house, with its ideal location in the heart of the historical centre of Antibes (promenade Amiral de Grasse), has 2 master bedrooms and can accommodate up to 6 people.
It occupies the entire first floor of a beautiful, seventeenth century building.
It was completely renovated in September 2017. All furniture is new and upscale.
It is perfectly equipped: washing machine / dryer, dishwasher, oven, microwave, high-speed Internet, Wifi, linens, etc.

Love at first sight, guaranteed!
Ready to stay in the Maison Marina?
Book now
Located promenade Amiral de Grasse, in the heart of the historic triangle Cathedral Notre-Dame-de-la-Platea, Picasso Museum, Provençal Market.
LOCATION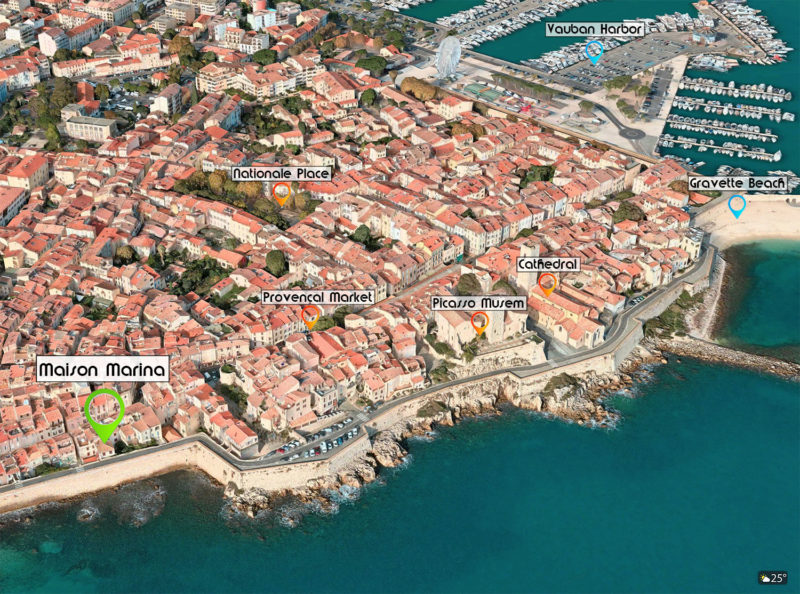 This apartment is located in a typical, seventeenth century Antibes building.
The entrance to the house is via the Admiral de Grasse, an exceptional address and reserved only for 3 privileged dwellings on the ramparts of Antibes : you'll fall under its spell the moment you set your eyes on it!
The facade was renovated in 2017.
The house has an armoured entrance door.

The Maison Marina is ideally placed to visit the must see monuments and museums of Antibes, but also to indulge in shopping.
Old Antibes is a chic and trendy district, known for its elegant streets, cafes and restaurants, fashion and design shops, antique shops, art galleries, etc.
The Notre-Dame-de-la-Platea Cathedral, the Picasso Museum and the Provençal Market are just around the corner.
Walk to the Gravette and Salis beaches in under 5 minutes.
Maison MARINA - AirBnb - Jan, 2021
Henri is a wonderful host, who takes great care of his property and of his guests, too.

He explained that he thought of it as a place where he would like to fell home, and that's exactly how we felt !
We loved the house and spent an amazing time at Maison Marina - we were there in early January during couvre-feu period. The house is super well equipped, and really wonderfully located.

Sea view and terrace look even better than on the pictures.

We already are thinking of coming back and surely will recommend it if somebody asks for a place to stay in Antibes !
Merci for having us !
Pierre & Emilie Geneve, Switzerland
Maison MARINA - AirBnb - Dec, 2020
Amazing stay in a fabulous flat conveniently located in the vieil Antibes.

Close to the food market , shops , beaches and the Cap d'Antibes. The views from the flat are extraordinary and the flat has been tastefully refurbished with noble materials . Henri and his lovely family are very hospitable hosts. They made sure that our stay during Christmas was pleasant despite the current situation (closed restaurants , curfew etc ).

Some of the best hosts we have met !
Berenice London, England
Maison MARINA - HomeAway - Jul, 2019
Property is exactly as advertised.
We were thrilled when we arrived and we appreciated it even more as the week went on. The location is perfect.

The view, access to the beach with a short 10 minute walk, the local outdoor market just around the corner.
The front room with the dining table proved to be a huge highlight. While we had expected and looked forward to dining out every night of our stay, we ended up having dinner a couple nights in the apartment because the atmosphere is so amazing. Enjoying a meal and glass of wine at the table in front of those windows is branded into my memory of our Antibes stay.
We were family of five. Our oldest enjoyed having the pullout bed from the sofa in the main room, which the rest of us share the two bedrooms. Worked very well.

Highly recommend this apartment.
Mike De M. Monte Sereno, USA
Maison MARINA - HomeAway - Aug, 2019
An exceptional property in best location in Antibes.

Would recommend this property to anyone visiting Antibes.

Looking at the Mediterranean out or the main windows every day is like watching live art.

Apartment is spectacular.
David New-York, USA
Maison MARINA - AirBnb - Apr, 2019
After much research, we selected Henri's apartment both for it's fantastic location on the ramparts of the Old Town in Antibes, and its beautiful appearance, along with its many windows facing the sea.

Indeed, it's a magical location - right along Antibes' medieval wall overlooking the Mediterranean, and smack in the middle of everything that is so special about this town.

The daily market with all its produce, flowers, fruits, meats, cheeses, and bread is around the corner, as are patisseries, cafes, wine shops, a beer store, and dozens of excellent restaurants. The Picasso museum is steps away as well, as is the harbor and all its magnificent yachts.

We have traveled all across the Riviera, and while we enjoy other locations, Antibes is by far our favorite "base" for exploring. It's easy access from here to Cannes and Nice, Ville Franche Sur Mer, Grasse, Vence, St. Paul De Vence, and Eze, and Menton, on the Italian border, is just an hour away.

Henri's place is gorgeous with two generously sized bedrooms both with windows opening to the sea, and plenty of closet space. The beds are really comfortable and the linens are fantastic. There are 2 full baths and a half bath, and a lovely living area with a large screen (huge) TV (with Netflix), and more views of the sea. The windows fully open to the sea air which would be wonderful in summer. When the windows are closed, there is no street noise, which is so nice. The kitchen is top of the line and well stocked with everything you need, including spices and such, and there was a thoughtful basket of treats for us on arrival. The washer and dryer and dishwasher are great and are easy to operate. The outside patio has a powered retractable awning which can be used as long as winds aren't too high.

Email communication with Henri and his property manager Ivan was always prompt, helpful, and courteous. Ivan was there on our arrival to show us the property and Henri met us for coffee during our stay!

This is a top property in a top location. Five stars doesn't give it justice.

Thank you Henri and Ivan for a great stay! We hope to return!
Joan Northville, Michigan, USA
Ready to stay in the Maison Marina?
Book now